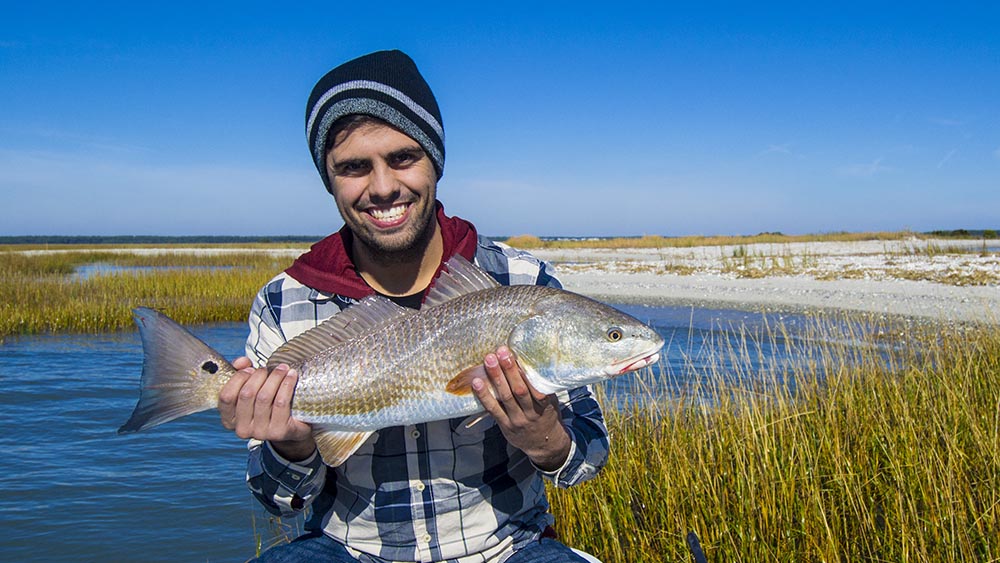 Fishing, entertainment, dining, fishing, and more.
Inshore, shallow water fishing in South Carolina's most amazing saltwater fishing location.
Explore and enjoy the activities offered in these waters such as kayaking, canoeing, surfing, windsurfing, scuba diving, parasailing, jet skiing, sailing and beachcombing.
Myrtle Beach has an estimated population of 32,000 people. It has an estimated 14 million people who visit its beautiful wide white sand beaches each year; who are drawn to its many attractions, talented entertainment shows, unique shopping outlets/malls, hotels, campgrounds, amusement parks, resorts, restaurants, festivals, special events and conventions. It is also a favorite choice for motorcycle rallies.
Because of its popular sports venue, it has sports teams like the Myrtle Beach Pelicans a Minor League Baseball team in Myrtle Beach, and the Class A-Advanced affiliate of the Chicago Cubs. Myrtle Beach offers over 100 golf courses to choose from and many beautiful parks.
Myrtle Beach is also is a favorite destination of many Team Sports Tourism Tournaments.
Myrtle Beaches average weather conditions are moderate for 9 months and experience roughly 3 months of winter. Even with summer day temperatures sometimes exceeding 85/95 degrees it is yielding to the refreshing ocean breezes.
You can try a different cuisine daily satisfying your appetite from casual to fine dining with over a thousand restaurants to choose from with many excellent restaurants serving seafood. There is usually something for the most persnickety palate.
Myrtle Beach is Home to:
The Shag, a popular dance now it is South Carolinas State Dance which began in about the 1940's reportedly on Ocean Drive.
The World Famous Country Music Hall of Fame and the Hollywood Walk of Fame Group Alabama. Alabama is an American country and Southern rock band. They began as Wild Country performing at The Bowery 50 yards from the beach.
Vanna White is an American television personality and film actress known as the hostess of Wheel of Fortune since 1982.
Sports Illustrated Magazine was started in 1953 at Pine Lakes International Country Club; Myrtle Beaches first Golf Course and built on the original natural sand dunes near the ocean.
Quick Myrle Beach Facts:
Myrtle Beach is 48 minutes, (33.1 miles) – North of Georgetown Landing Marina where Blue Boy Fishing Charters are headquartered via US-17 South and US-17 BUSINESS South.
Myrtle Beach South Carolina wasincorporated as a town in 1938 and as a city in 1957. It is in Horry County the second largest County in South Carolina. It is one of the fastest growing areas in the nation. It has exceeded its projected growth and has become a major tourist destination and described as the second most popular beach in the United States.
Myrtle Beach is also known by many other names such as the name Chicora meaning The Land; given by the Native Americans Tribes the Waccamaw and Winyah. Later the settlers named it New Town. It was given its current name Myrtle Beach after the abundant southern sweet wax myrtle shrub. Kings Highway (US -17) was once an Indian Trail.
The Myrtle Beach shoreline is called The Grand Strand, the 60 mile stretch from Little River to Georgetown. This area has several creeks, rivers, and the Intercostal Waterway that was established in 1936.
Myrtle Beach has its allure, fantasy and is steeped in history.
Book Now!
Whether you want to fish inshore, nearshore, or fish for tarpon, we have you covered!
Let's go fishing!
Book your South Carolina fishing adventure today!